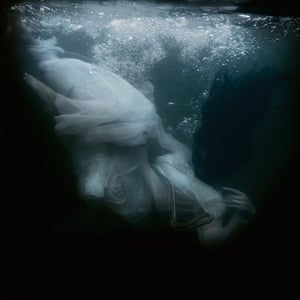 €

13.00
(AND) aka. Ånd – Aeternus LP
Post black metal with german vocals.
"
"Post Black Metal" mit eiskaltem Keifgesang auf deutsch – kann das gutgehen? Es kann: wenn es so gemacht wird wie hier. Die Gitarrenarbeit erinnert dann und wann etwas an Ahab und der Sound ist angenehm transparent, überhaupt nicht mumpfig, aber drückend und stark. In Sachen Düsternis macht den Berlinern so schnell niemand was vor, das ist kein Kindergeburtstag und auch keine Hipsterfete, wer also bereits ein Faible für die ultradüsteren Labelkollegen ABEST hat, ist hier gut beraten. Die Trve Metal Fraktion höre ich bereits jetzt sich beschweren, weil die Band mehr zu tun hat mit Visionären wie Terra Tenebrosa, Der Weg einer Freiheit, Secrets of the Moon oder Altar of Plagues als mit Bathory, aber genaugenommen ist die Band dichter dran als so viele andere: es geht um Verfall, um "Schatten", um "Niedertracht", der Gesang ist die Definition von Lichtlosigkeit und Negativität, und ich finde hier genug Hummelgitarrenschwärme und gute Einfälle an den Gitarren sowie rhythmische schleppende Doom-Passagen mit klaren Sounds, darüber hinaus auch rasendes Tempo, dass ich Genredefinitionen eher überflüssig finde: das ist spannend gemacht und eignet sich hervorragend für nachdenkliche Grübel-Momente alleine im Dunkeln. Live gehört so eine Band unbedingt aufs Roadburn!
"
ltd. to 375 copies on black vinyl.
(This Charming Man 2016)
--------------
Please ask for exact international shipping costs, if you want to buy more articles, or if you want insured international shipping to safe some money. (it depends on the weight, up to 2kg for at least 4 regular LPs and some 7inches fit in most cases, over 2kg, up to 5kg might affect higher postage costs).
Because of the war of agression against the ukraine we are not able to ship items to Russia, Belarus and the Ukraine. We hope the situations turns better soon, as peacefully as possible.