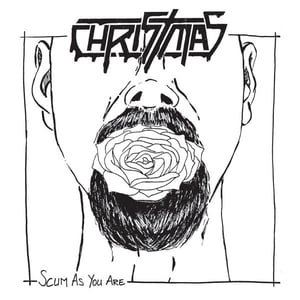 €

13.80
Christmas – Scum As You Are LP (2018)
Great Hardcore-Punkrock from Germany. File under early SUICIDAL TNEDENCIES, POISON IDEA. The singer Max is/was also the new singer of Reagan Youth.
comes with:
black vinyl limited to 200 copies
-CD
-Download Code
-20cm large, 8 sides booklet
-screenprinted cover
https://youtu.be/c3QImx-sDKw
Tracklist:
Army of Losers
The old man tells
You bore me
Wave of hate
Fortune ain't payable
Scum as you are
Empty Generation
I hate
Rosebud
Good times, high fives
Sex Sells
Bass Guitar – Lobster Louie
Drums – Äxel Äxport
Guitar – Crystal Mat
Lead Vocals – Max Motherfucker
(Kidnap Music)
--------------
Please ask for exact international shipping costs, if you want to buy more articles, or if you want insured international shipping to safe some money. (it depends on the weight, up to 2kg for at least 4 regular LPs and some 7inches fit in most cases, over 2kg, up to 5kg might affect higher postage costs).
Because of the war of agression against the ukraine we are not able to ship items to Russia, Belarus and the Ukraine. We hope the situations turns better soon, as peacefully as possible.