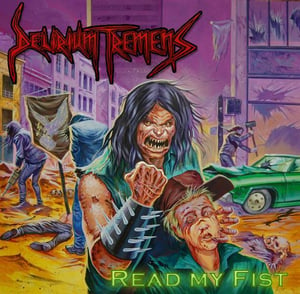 €

14.00
DELIRIUM TREMENS (Germany) - "Read My Fist" black Vinyl Gatefold 12 Track LP incl. Live Bonus Track - Lim. to 4oo copies (Anger of Metal)
Thrash Metal
Anger Of Metal - Records, 2014
black Vinyl , Gatefold Cover
Lim. to 4oo copies !
Side A :
1. Rough Ride
2. Read My Fist
3. We'll Be Drunk Forever
4. Iron Gang
5. Rolling Thunder
6. Thrash And Be Trashed
Side B :
7. Get Fucked
8. Backyard Wrestling
9. Hoy Hey , Live To Rock (Wendy O. Williams Cover)
10. The Kids Kick Ass
11. Let Me Die
12. Fuck Posers (Live At Bitterfeld)
--------------
Please ask for exact international shipping costs, if you want to buy more articles, or if you want insured international shipping (depends on weight 500g, up to 1000g).