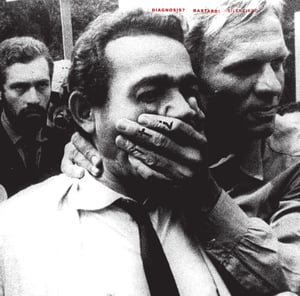 €

11.50
Diagnosis? Bastard! - Silenciado LP (black vinyl)
Stockholm based D-Beat hardcore with Victims and Nitad members.
"Nach zwei 7"s auf La Familia Releases und D-Takt & Rapunk gibts hier den ersten Longplayer der Band aus Schweden, bei der u.a. Leute von Victims und Nitad mitmischen. Musikalisch gibts hier 12x schnellen, rauen Hardcore-Punk mit leichtem D-Beat-Einschlag - ein räudiger und brutaler Sound voll Hass und Verzweiflung. Das hier ist die "normale" Version und kommt auf schwarzem Vinyl mit roten Innenhüllen ... "
--------------
Please ask for exact international shipping costs, if you want to buy more articles, or if you want insured international shipping to safe some money. (it depends on the weight, up to 2kg for at least 4 regular LPs and some 7inches fit in most cases, over 2kg, up to 5kg might affect higher postage costs).
Because of the war of agression against the ukraine we are not able to ship items to Russia, Belarus and the Ukraine. We hope the situations turns better soon, as peacefully as possible.