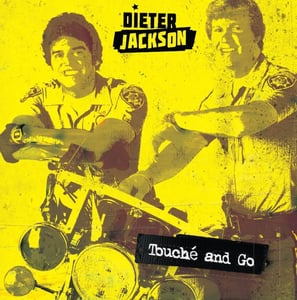 €

12.00 - On Sale
Ey Typ!! Dieter Jackson, (Rock'n'Roll von Mitgliedern von Affenmesserkampf, Chuck Bass, Ex-Bad Days) haben ´ne Platte gemacht, die da auf den Namen "Touché and Go" hört.
Und weil heutzutage ja jeder einen Plattenspieler im Auto hat und CDs scheiße sind, erscheint la musique auf GELBEM und SCHWARZEM Vinyl (180 Gramm) bei JanML Records in Kooperation mit Maja von Lobeck!
Hör ma rein:
https://janml.bandcamp.com/
https://www.facebook.com/JanmlRecords
Hier zu bestellen oder email an [email protected]! Kostet 12€ + Porto!
The ltd. yellow Vinyl is sold out!
Dieter Jackson - Touché and Go
JanML Records / Maja von Lobeck, 2013
All songs written and arranged by Dieter Jackson.
--------------
Please ask for exact international shipping costs, if you want to buy more articles, or if you want insured international shipping to safe some money. (it depends on the weight, up to 2kg for at least 4 regular LPs and some 7inches fit in most cases, over 2kg, up to 5kg might affect higher postage costs).
Because of the war of agression against the ukraine we are not able to ship items to Russia, Belarus and the Ukraine. We hope the situations turns better soon, as peacefully as possible.