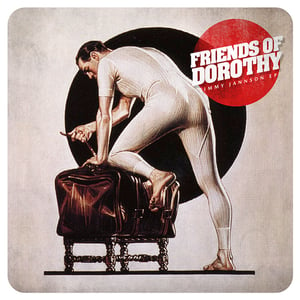 €

5.00
Friends Of Dorothy - Jimmy Jansson 7'' (colored vinyl, limited 200)
(Spastic Fantastic)
GARAGE / PUNK / POWERPOP - FRIENDS OF DOROTHY, die neue Superband aus Schweden mit Ex- HENRY FIATS OPEN SORE Leuten, ja sogar der einzig wahre Henry Fiat am Gesang! Vier neue Songs. Melodischer Garagepunk, zackig, hibbelig und flott mit einer Priese 60s, Powerpop, Rock'N'Roll und Soul. Der perfekte Soundtrack für den Sommer, den Winter, den Herbst, den Frühling!
--------------
Please ask for exact international shipping costs, if you want to buy more articles, or if you want insured international shipping to safe some money. (it depends on the weight, up to 2kg for at least 4 regular LPs and some 7inches fit in most cases, over 2kg, up to 5kg might affect higher postage costs).
Because of the war of agression against the ukraine we are not able to ship items to Russia, Belarus and the Ukraine. We hope the situations turns better soon, as peacefully as possible.