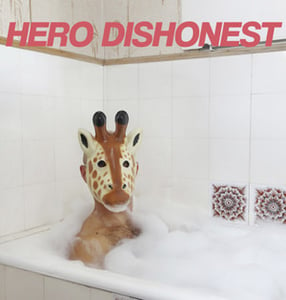 €

11.00
Hero Dishonest - Dangerous LP
""dangerous" is the new full-length album from Finlands HERO DISHONEST. During their 11 years of existence they have put out 4 full-length releases. Like with their previous releases, "dangerous" continues to add new elements to the bands hardcore based sound. This time more midtempo and melodic influences have been introduced to the bands trademark hyperspeed thrash. During the 4 years that the record gradually took shape(between tours, jobs, illnesses and changing diapers), the band managed to come up with their most versatile collection of songs to date. The record also includes the CD version of the album. "
"…well, in MY day, if you bought an album with a guy in a giraffe mask in the bathtub on the cover, and it wasn't what you expected, it was probably some kinda art-rock like Yes or Genesis or Pink Floyd or something. Turns out that the album is, instead, some kinda raging, super-speed, leather-lunged chore-core to which i cannot cock an honest ear. I give 'em points for general intellectual nuttiness, but, on the whole, this strikes me as the kinda thing that maybe people who really like NoMeansNo but not necessarily their funkiness would adore. I will allow said individuals to form their own opinion, unencumbered by further commentary on my part. BEST SONG: Pass. BEST SONG TITLE: "Birth, Sports Illustrated, Death" FANTASTIC AMAZING TRIVIA FACT: Record spine reads as follows: "Pitelet käsissäsi Hero Dishonestin uusinta erootillsta novelikokoelmaa: Sateen jälkeen keltaista linimenttia ja sinot unohdin eli Sodoman ja Gomorran kinkerit, juustokestit! …Buy cheap drugs at herodishonest.com/cheapdrugs"" [Razorcake]
(Sabotage Records, If Society)
--------------
Please ask for exact international shipping costs, if you want to buy more articles, or if you want insured international shipping to safe some money. (it depends on the weight, up to 2kg for at least 4 regular LPs and some 7inches fit in most cases, over 2kg, up to 5kg might affect higher postage costs).
Because of the war of agression against the ukraine we are not able to ship items to Russia, Belarus and the Ukraine. We hope the situations turns better soon, as peacefully as possible.