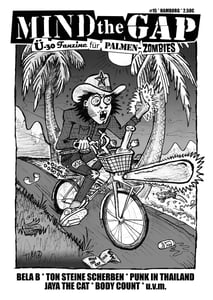 €

2.50
Mind The Gap #15 ist seit Anfang September erhältlich. Thematisch breiter aufgestellt als je zuvor gibt es Artikel und Interviews von nachlassverwaltendem Punk-Konservativismus über fahrig-selbstgerechten Erneuerungswillen bis hin zu dadaistischen Höhenflügen. Mit dabei: BELA B., BODY COUNT (!!!), TON STEINE SCHERBEN, TOXOPLASMA, WELLE:ERDBALL (!!!), THE VIBRATORS, JAYA THE CAT, Oise (BOYSETSFIRE), Abel Gebhardt, SLEAFORD MODS, 206, "Punk in Thailand"-Bericht, RIOT BIKE RECORDS sowie der einzige (und nicht nur deshalb beste) Bericht vom Force Attack 2014!!! Gar nicht zu reden von luxuriös ausagierten Standards wie Vorwort-Kolumnen, umfangreicher Konzertreview-Strecke, meterweise Besprechungen zu Lala und Gedrucktem und Sir Hake's prähistorischen Punkperlen. Das Comic-Cover stammt, wie gar nicht so selten von Hamburgs coolstem Tim Armstrong-Lookalike, inhaltlich struggeln wir tolerant und ignorant aneinander vorbei wie in seligen 90er-Zeiten, als Frank Herbst, Atakeks und Swen Bock noch für die selbe Zeitung schrieben. 72 Seiten in bester Druckqualität zum ultrafairen "Wie machen die das bloß?"-Kurs. Sollte man möglichst haben.
--------------
Please ask for exact international shipping costs, if you want to buy more articles, or if you want insured international shipping to safe some money. (it depends on the weight, up to 2kg for at least 4 regular LPs and some 7inches fit in most cases, over 2kg, up to 5kg might affect higher postage costs).
Because of the war of agression against the ukraine we are not able to ship items to Russia, Belarus and the Ukraine. We hope the situations turns better soon, as peacefully as possible.