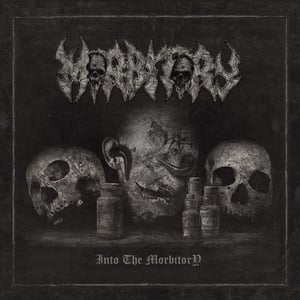 €

12.00 - On Sale
9th of December 2016 - Vinyl Release of Into The Morbitory !
The Debut 12" EP of Morbitory - Into The Morbitory contains 6 tracks of pure oldschool Death Metal from Hamburg/Germany in the vein of AUTOPSY, GRAVE or DEATH on Side A and an engraving on Side B (with members of Rotten Corpse und Dawn of Obliteration).
Listen to it here: https://janml.bandcamp.com/album/into-the-morbitory
Limited to 398 copies.
Item will be shipped on or around 9th of December 2016
Bret Hard Records / Janml Records / Maja von Lobeck / Frontcore Records / Moshferatu Records, 2016
JanML /MvL
--------------
Please ask for exact international shipping costs, if you want to buy more articles, or if you want insured international shipping to safe some money. (it depends on the weight, up to 2kg for at least 4 regular LPs and some 7inches fit in most cases, over 2kg, up to 5kg might affect higher postage costs).
Because of the war of agression against the ukraine we are not able to ship items to Russia, Belarus and the Ukraine. We hope the situations turns better soon, as peacefully as possible.