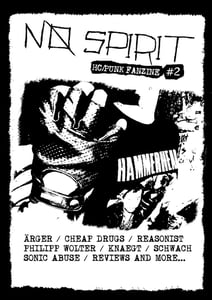 €

2.50 - On Sale
DIY HC/PUNK FANZINE from Hamburg/Germany
ISSUE #2:
ÄRGER // CHEAP DRUGS // KNAEGT
PHILIPP WOLTER // PHILIPP OHME
SCHWACH // REASONIST // SONIC ABUSE
REVIEWS AND MORE....
FORMAT A5 // 60 PAGES // GER./ENGL. LANGUAGE
--------------
Please ask for exact international shipping costs, if you want to buy more articles, or if you want insured international shipping to safe some money. (it depends on the weight, up to 2kg for at least 4 regular LPs and some 7inches fit in most cases, over 2kg, up to 5kg might affect higher postage costs).
Because of the war of agression against the ukraine we are not able to ship items to Russia, Belarus and the Ukraine. We hope the situations turns better soon, as peacefully as possible.