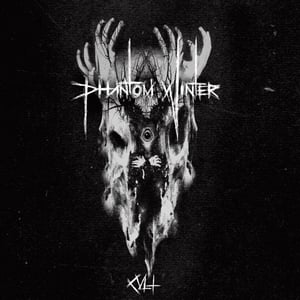 €

17.99
Phantom Winter – CVLT LP (180g black vinyl first Press)
" Dark. Raw. Intense: "Cvlt" by Phantom Winter is one of the most anticipated heavy records this year. Phantom Winter were born last year from the ashes from Omega Massif. Soon after their demise, Andreas Schmittfull (Guitar, Vocals) and Christof Rath (Drums) of Omega Massif began to write new songs. Joined by Martin Achter (Bass) and Christian Krank (Vocals) Phantom Winter is complete to attack everyone`s ears.
Pushing genre boundaries aside, Phantom Winter brings you a heavy mixture of metal, sludge and doomy rock. Psychedelic sludge, merging doom and mighty mighty riffs to create a sound on their own, Phantom Winter deliver their debut "CVLT" for Golden Antenna. Recorded at "Die Tonmeisterei (Tephra, Omega Massif etc.) "CVLT" takes you on an intense journey through different levels of extreme music which they themselves call "Winterdoom".
In Phantom Winter matchless musicianship hits the distressed vocals by Christian Krank to achieve one of the most awe-inspiring pieces of music to be released this year. The vast artwork was done by Hummel Grafik (Planks, Minot, Omega Massif)."
1. Corpses Collide
2. Finster Wald
3. Svffer
4. Avalanche Cities
5. Wintercvlt
Black vinyl. 180gr. Edition of 700 copies.
(Golden Antenna 2015)
--------------
Please ask for exact international shipping costs, if you want to buy more articles, or if you want insured international shipping to safe some money. (it depends on the weight, up to 2kg for at least 4 regular LPs and some 7inches fit in most cases, over 2kg, up to 5kg might affect higher postage costs).
Because of the war of agression against the ukraine we are not able to ship items to Russia, Belarus and the Ukraine. We hope the situations turns better soon, as peacefully as possible.