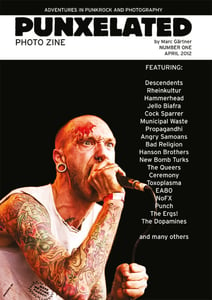 €

4.00 - On Sale
PUNXELATED – Punk Photo Zine #1 by Marc Gärtner
64 pages
full color
no ads
About 200 images from 58 bands.
Featuring images from:
7 Seconds, The Angry Samoans, Bad Religion, Bloodattack, Blumfeld, Bubonix, The Casting Out, Ceremony, Cock Sparrer, Conmoto, The Creepshow, Dean Dirg, Descendents, Dirty Deeds, The Dopamines, EA80, Enter your crisis, The Epoxies, The Ergs!, Gallows, Glasses, Grim, Hammerhead, The Hanson Brothers, Jello Biafra, Jennifer Rostock, The Jetty Boys, Juliette Lewis, Kraftclub, Less Than Jake, The Marked Men, Municipal Waste, New Bomb Turks, Night Birds, NoFX, No Means No, No Use For a Name, Paint it Black, pg.99, Propagandhi, Punch, The Queers, Rämouns, Reagan Youth, Selig, Sham 69, Slime, Sloppy Seconds, The Slow Death, Sniffing Glue, Spermbirds, The Subways, Tomte, Toxoplasma, Turbostaat, Underparts, Zatopeks
Articles:
Descendents – Marc goes to Groezrock and London (twice).
Rheinkultur Festival – r.i.p. my favorite festival.
Brian Baker vs. The Internet – When the web brings out the laughs.
Angry Samoans – Metal Mike is crazy.
The best and worst of being a punk rock photographer
Ceremony – Walk all over me.
NoFx – Chili Dog
Photo booth
Bei mehreren Fanzines bleibt das Porto identisch!
--------------
Please ask for exact international shipping costs, if you want to buy more articles, or if you want insured international shipping (depends on weight 500g, up to 1000g).