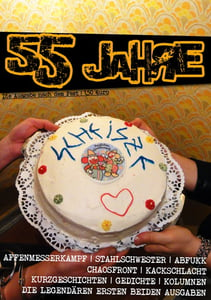 €

1.50 - On Sale
Scheisze #5
-Die Jubiläumsausgabe zum 55.-
Was gibt es für einen schöneren Anlass zum Feiern als ein sauberer, runder Geburtstag? 55 Jahre SCHEISZE geht auch an uns nicht spurlos vorbei und so heißt es "reflektieren, reflektieren, aufarbeiten"! Haben wir getan: Exklusiv gibt es die Enthüllungsstory zu den legendären ersten beiden Ausgaben.
AFFENMESSERKAMPF (Guacamole und andere Denktechniken)
STAHLSCHWESTER (Das wird man ja wohl nochmal sagen dürfen)
ABFUKK (Turbonegro und andere Trachtenvereine)
CHAOSFRONT (Vorbereitung ist der halbe Job)
KACKSCHLACHT (Das Duo der guten Laune)
55 JAHRE SCHEISZE (Alle Legenden enthüllt)
DIE KURZGESCHICHTE (Erster Auftritt: Karl Knäckebrot)
GEDICHTE (Reime von Frank Forwärts)
KOLUMNEN ("In Gedanken" und "Trashformate" von Hagi | "Eigentlich" und "Hätte, hätte, Herrentoilette" von Frank Forwärts)
FRANKS FILMECKE
GIMMICK: Konfetti aus alten PLASTIC BOMB- und OX-Ausgaben
--------------
Please ask for exact international shipping costs, if you want to buy more articles, or if you want insured international shipping to safe some money. (it depends on the weight, up to 2kg for at least 4 regular LPs and some 7inches fit in most cases, over 2kg, up to 5kg might affect higher postage costs).
Because of the war of agression against the ukraine we are not able to ship items to Russia, Belarus and the Ukraine. We hope the situations turns better soon, as peacefully as possible.