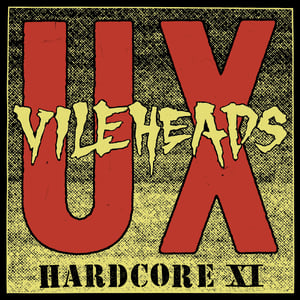 €

12.00 - On Sale
U.X. Vileheads - Hardcore XI LP (Adult Crash / Ny Vag)
The sound of great timeless hardcore punk. The title sums up the record better than anything I can come up with. 11 tracks of Umeå Hardcore anno 2011 by some of the most consistent and dedicated punks.
Spastic Fantastic:
"U.X. VILEHEADS is the latest in the line of great Hardcore bands coming out of Sweden and a veritable who's who of Umeå hardcore.
Marcus on bass is of course known from bands like REGULATIONS, TRISTESS, INSTÄNGD and so on. Andre on drums played The VICIOUS, TRISTESS, DS-13, INVASIONEN, The LOST PATROL BAND and many more.
Fredrik on the shredding guitar did not only record the record but has also played with such bands as INSURGENT KID, AMBULANCE, DÖDSDÖMD, SÄNKT and whole bunch of others. Torbjörn on vocals is a newcomer compared to the other guys but he has already cut his teeth with bands like ATTYDPROBLEM and MANBOYS. After releasing two succesful 7" on Deranged Records and Adult Crash Records it was time to release a full-lenght. The record is a 12-song attack of relentless Hardcore/Punk in the vein of OFFENDERS, RAW POWER, TOXIC REASONS and MINOR THREAT."
--------------
Please ask for exact international shipping costs, if you want to buy more articles, or if you want insured international shipping to safe some money. (it depends on the weight, up to 2kg for at least 4 regular LPs and some 7inches fit in most cases, over 2kg, up to 5kg might affect higher postage costs).
Because of the war of agression against the ukraine we are not able to ship items to Russia, Belarus and the Ukraine. We hope the situations turns better soon, as peacefully as possible.